Last week I had lunch with a co-worker on vacation from Europe, at the Cheese Cake Factory. Don't worry, cheese cakes are not the only food on the menu of this restaurant, even though they taste very good. The Cheese Cake Factory serves a wide variety of "new" American dishes.  It is a grand restaurant with high ceilings and a gigantic decor;  the decorator must litterally be a BIG-picture person. You will probably think the same of the chef when you see the size of the plates and the food on it.  Lunch portions are usually much smaller than what's served for dinner, but I had to take half of mine home because I could not finish this monster of a salad within the lunch hour.
When I go out to eat, I either pick something new or can't "fix" (southern term for cooking), or for comparison's sake, something I had at other restaurants.  I was in the mood for a salad and they make some pretty fancy salads there. The Santa Fe Salad sounded more appealing than the soup & sandwich combo, so I went for it.  No regrets!!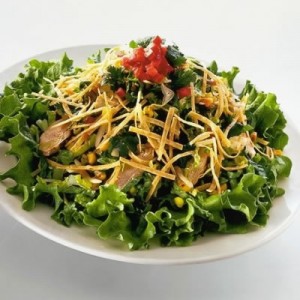 Lettuce, tomatoes, corn, black beans, grilled chicken, red cabbage, sweet onions, tossed with a marvelous spicy lime cilantro dressing. I'm still trying to figure out what was in the dressing. To finish it off, the salad was topped with fried tortilla strips.
Again, bullseye! Good choice! I truly enjoyed my salad, even though I had to finish it in two parts. Once I figure out the dressing, I will post the recipe here.