My boyfriend and I recently went to Mallorca for a short vacation. It was a wonderful trip! This Spanish island has it all: beautiful mountains, a nice blue see, good weather, friendly people and also an excellent kitchen! Because we like to experiment we tried all kinds of food like octopus, swordfish, dorado, shrimps, paella, lamb and different tapas.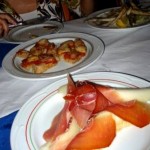 The best dinner we had was at the family restaurant Santa Maria in Cala d'Or, the city where we stayed. We started with olives, bread and alioli. For the main course I had different tapas: fried sardines with salad, sobrassada with cheese and melon with serrano ham. It doesn't seem to be a lot but each tapa had the size of a small meal. My boyfriend had lambshoulder with fried potatoes and vegetables. As a dessert I had flan caramel. It all tasted great and we were completedly stuffed but very happy when we left the restaurant. 
Recipes of these dishes can be found on the internet and be made at home, but to experience the Spanish way of living and enjoying life, I would say: Go to Mallorca!