If you like to have a light breakfast with fruit or if you have lactose intolerance, this is the shake for you! I created this recipe because I like having fruit in the morning but dislike the sour of an orange. So now I'm having this shake almost every morning and it makes me feel good because it's easy for my body to digest and it's also very healthy because it contains soya milk. The recipe is quick and easy:
1 banana (cut into pieces)
1 orange (peeled and cut into pieces, don't use the interior with seeds)
0,5 glass of soya milk
Blend all together until it's a delicious shake.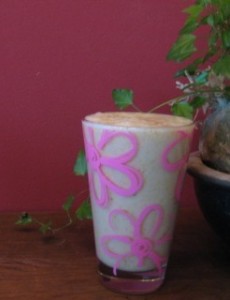 Tip: You can also use a peeled kiwi or a few strawberries instead of an orange.
Enjoy!