Being exposed to cuisine from various Latin American countries present in Atlanta,I have had the opportunity to try empanadas from Argentina, Chile, Colombia, Ecuador, Peru, and Venezuela.
Empanadas are individual sized meat pies and are also known in the Caribbean as "patties". This is a spicy variety and can be flavored from mild to very hot.
Each country has different preparation techniques and fillings, but I have to admit that I really liked the homemade empanadas shared at work this week by Julio, my Chilean colleague. He was so kind to share his family recipe, which I translated from Spanish into English.
~~~ Buen provecho! ~~~Enjoy! ~~~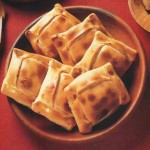 INGREDIENTS:
Stuffing: (should be prepared 1 day ahead)
1/2 kilogram of ground beef
3 large onions
1 beef boulion cube (6grs)
1 to 3 tbsp flour
paprika
1/8 oil
white pepper, salt, cumin, oregano
1 egg (for basting)
3 hard-boiled eggs (sliced)
21 olives (optional)
40 raisins (optional)
PREPARATION OF FILLING:
Fry the ground beef in the oil. Boil the onions in water and a spoonful of sugar. Once the water boils drain the water and add the onions to the meat along with the spices (salt, cumin, oregano, white pepper, paprika to flavor). Dissolve beef cube in 1 cup of water and add to the mixture. The meat should not be cooked too long, since it finishes cooking in the oven. Remove from the heat, to add flour (1 to 3 tbsp, to thicken). Turnover well and let if cool off.
Dough:
1 kilogram flour
5 egg yolks
250 grams margarine
3 tsp salt
½ litre milk
1 tbsp vinegar
PREPARATION OF DOUGH:
Mix the flour in a bowl along with the salt. Make a hole in the center (like a vulcan) and add the yolks, melted margarine and tepid milk, forming a soft mixture. Once the dough is smooth, add the vinegar. Cut the dough in 18 parts (size of a tennis ball), press each part flat to the size of a plate (2-3 millimeters thick). Fill with a spoonful of the filling, 2 raisins (optional), 1 olive and 1 slice of the hardboiled egg, moisten half of the edge of the dough with tepid water, fold over, puncture the sides with a fork and baste the empanada with (beaten) egg for gold coloring. Bake in a hot oven for 20 to 30 minutes (depending on the oven), until the empanadas are gold toned.
Tip: While preparing the patties, keep the dough in a warm room without dry airflow so it will not turn dry and hard.